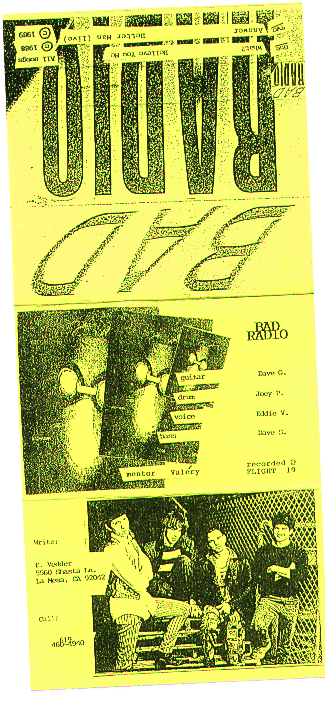 ---
This is a scan of the casette insert (j-card) for the original demo tape. Dave G. explains it's significance:

"This is the original cassette insert for the only tape we ever officialy released. It was self-produced and Tower Records carried it for awhile. It actually sold out, and Tower actually paid us for it.

Eddie designed the artwork and did all of the printing on the copier at the gas station where he worked. I imagine he probably doesn't do it the same way anymore." D.G.

---
CROSSROADS: The Unofficial Bad Radio Website

HOME | BAND | LYRICS | BOOTLEG DISCOGRAPHY | IMAGES | SOUNDS
Q & A | LINKS | WEBSITE INDEX | WHAT'S NEW?